Jurassic World: Dominion Dominates Fandom Wikis - The Loop
Play Sound
Koopa Paratroopas are enemies found throughout the Newer Super Mario Bros. series.
Koopa Paratroopas first appear in Newer Super Mario Bros. Wii, where they're semi-rare enemies that are first seen in Growing Greenwood, and last seen in Blue Chilldesert.
Appearance
Koopa Paratroopas are Koopa Troopas, but with little white wings. They can be seen in many colors, but the most common colors are green and red.
Behavior
Koopa Paratroopas have two flying patterns. The first one being the jumping pattern, where the Koopa Paratroopa bounces across the floor in an arch. This could be difficult to dodge, but not too difficult. The second flying pattern is the actual flying pattern. Here, they'll fly in a vertical or horizontal line, back and forth.
Once a Koopa Paratroopa gets jumped on, it'll lose its wings and turn into a Koopa Troopa, falling of or staying on ledges depending on the color. It can be for sure disposed of by hitting it with a fireball or Hammer.
Koopa Paratroopas' appear for the second time in Newer Super Mario Bros. DS. Here, they're quite common, first appearing in Chopwood Cavern, and finally appearing in the final fight with Bowser in his own castle.
Appearance
Like the Koopa Troopa, Koopa Paratroopas are sprites taken straight out of New Super Mario Bros. Wii. Unlike the last game, a new blue Koopa Paratroopa is common, alongside the red and green Paratroopa.
Behavior
Koopa Paratroopas behave exactly like how they do in Newer Super Mario Bros. Wii. They'll either jump or fly, and can be disposed of easily.
Gallery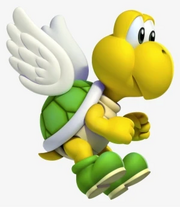 Characters
Protagonists
Mario • Luigi • Princess Peach • Yellow Toad • Blue Toad
Antagonists
Bowser • Koopalings • Kamek • Bowser Jr.
Supporting Characters
Yoshi • Jumbo Ray
Worlds
World 1
World 1- • World 1-1 • World 1-2 • World 1-3 • World 1- • World 1-4 • World 1-5 •
World 1-6 • World 1-
World 2
World 2-1 • World 2-2 • World 2-3 • World 2- • World 2-4 • World 2-5 • World 2-6 •
World 2-
World 3
World 3-1 • World 3-2 • World 3-3 • World 3- • World 3- • World 3-4 • World 3-5 •
World 3-
World 4
World 4-1 • World 4-2 • World 4-3 • World 4- • World 4-4 • World 4- • World 4-5 •
World 4- • World 4-
World 5
World 5-1 • World 5-2 • World 5-3 • World 5- • World 5-4 • World 5- • World 5-5 •
World 5-
World 6
World 6-1 • World 6-2 • World 6-3 • World 6-4 • World 6- • World 6-5 • World 6-6 • World 6- • World 6-
World 7
World 7-1 • World 7-2 • World 7-3 • World 7- • World 7- • World 7-4 • World 7-5 • World 7-6 • World 7-
World 8
World 8-1 • World 8-2 • World 8-3 • World 8- • World 8-4 • World 8-5 • World 8-6 • World 8-7 • World 8- • World 8-
World 9
World 9-1 • World 9-2 • World 9-3 • World 9-4 • World 9-5 • World 9-6 • World 9-7 • World 9-8
Warp Cannons
World 1- • World 2- • World 3- • World 4- • World 5- • World 6-
Enemies
Enemies
Amp • Banzai Bill •

Big Boo

• Big Cheep Cheep • Big Dry Bones •

Big Fire Piranha Plant

• Big Fuzzy • Big Goomba • Big Piranha Plant • Big Thwomp • Big Urchin • Big Wiggler •

Blooper Nanny

• Blooper • Bob-omb • Boo • Boomerang Bro • Bramball • Broozer •

Bulber

•

Bull's-Eye Bill

• Bullet Bill • Buzzy Beetle • Chain Chomp • Cheep Cheep • Cheep Chomp • Circling Boo Buddies • Clampy •

Climbing Koopa Troopa

• Cooligan • Crowber • Deep Cheep • Dry Bones • Eep Cheep • Fire Bro • Fire Piranha Plant • Fire Snake •

Fish Bone

• Flame Chomp • Foo • Fuzzy • Goomba • Hammer Bro • Heavy Para-Beetle • Huckit Crab • Ice Bro •

Jellybeam

•

King Bill

•

King Bill

(Banzai Bill) • Koopa Paratroopa • Koopa Troopa • Lakitu • Mechakoopa •

Mega Boo

• Micro-Goomba • Monty Mole • Muncher •

Obake Block

•

Obake Stand

• Para-Beetle •

Parabomb

• Paragoomba • Piranha Plant • Podoboo • Pokey • Porcupuffer • Prickly Goomba • River Piranha Plant • Rocky Wrench • Scaredy Rat • Sledge Bro • Spike Top • Spike •

Spiny Cheep Cheep

• Spiny •

Stalking Piranha Plant

• Stone Spike • Swoop • Thwomp • Urchin • Wiggler
Obstacles
Bosses
Larry Koopa • Roy Koopa • Lemmy Koopa • Wendy O. Koopa • Bowser Jr. • Iggy Koopa • Morton Koopa Jr. • Ludwig von Koopa • Kamek • Bowser
Items
Powerups
Super Mushroom • 1-Up Mushroom • Mini Mushroom • Propeller Mushroom • Fire Flower • Ice Flower • Penguin Suit • Super Star